Connecting every child to a brighter future
Introducing the ultimate classroom and remote learning device

e-learning re-imagined
Welcome to your
digital classroom
The most cost-effective, end-to-end EdTech solution in South Africa – so much more than just a tablet!
The OMANG difference:
Dedicated educational device • Pre-loaded with your school's content and approved online resources • Fully integrated with platforms such as Siyavula and Khan Academy
You get:
16GB Android tablet • 2GB of data per month • WiFi-enabled
For home or classroom use:
Safe and secure • Learn at your own pace • User-friendly
Easy access to all your:
Textbooks • Tutorials • Videos • Past papers • and MORE
Learning hours logged on OMANG
"I am very proud of the work that is being done by our provincial government by handing out these [OMANG] gadgets that I spoke about [in SONA 2019] … I am pleased that the Free State is the very first to implement this type of program, thank you very much!"
~ President Cyril Ramaphosa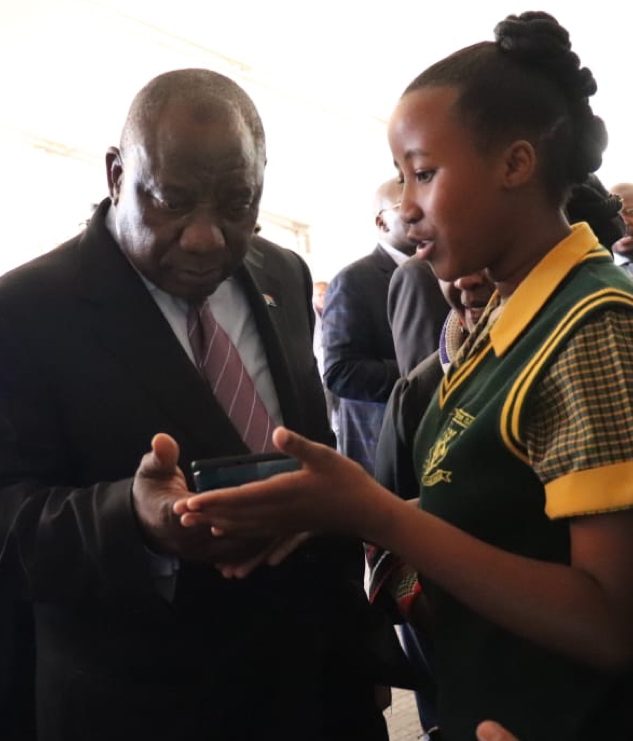 What schools are saying about OMANG

"Being situated in the rural part of the Free State, the norm would be that we are behind the times. But with the OMANG device, we can be with the times and teach beyond the classroom. This device has allowed our learners to find information for themselves outside the library hours. Now, learning and teaching does not only take place in the classroom."
Mr Modukanele, Headmaster, Olien Secondary School, Fauresmith

"Our school has benefited a lot from receiving OMANG devices for Grade 10 through 12 since 2018. With learners now being able to interact with teachers after school hours to seek further information and clarity on various topics, the work rate and pass rate has improved a lot."
Mr Tsotetsi, Headmaster, Vulamasango Secondary School, Bloemfontein

"The school has welcomed the OMANG devices with open arms. The devices assist learners with additional activities for all the subjects for which they have registered, as well as the platform for teachers to test learners on the subject, even when they are at home. I would recommend such initiatives for schools going forward, as this forms part of the 4th industrial revolution."
Mr Moletsane, Headmaster, Mohaladitwe Secondary School, QwaQwa
Device Features
Our devices provide both online and offline functionality, with access to the following:
My Library
Personalised and loaded with your school's chosen textbooks for the user's subject choices. Extras include past papers, recommended reading, study guides and more.
Bonus Content
Teachers can push their own documents, images and videos to their classes. Learners also receive relevant content based on what they are viewing.
My Profile
This is the user's digital identity, fully customised to the school, grade and subjects for which he or she is registered.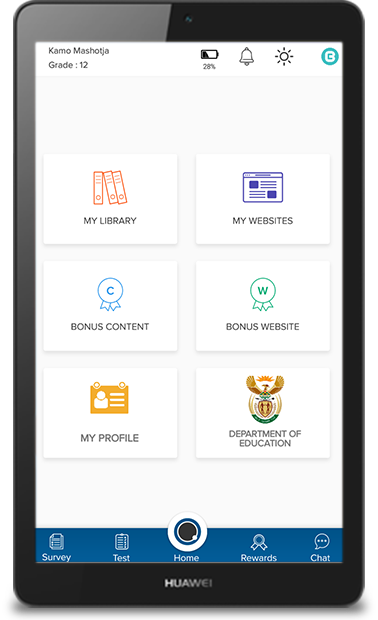 My Websites
Find all approved educational websites, subject-specific sites and new additions here.
Bonus Websites
These websites are tailored to the individual user's interests and are based on what the learner is viewing or reading online.
Communication Portal
This communication portal can be used by the Department of Education or the school to send important news and notices to learners.
Surveys
Take approved surveys that are appropriate and safely targeted. These can be consumer-driven or specific to your school.
Tests
Up to 50 multiple-choice questions. Set time frames. Lock 'My Library' for closed-book tests. Instant results.
Rewards
Get discounts and e-vouchers for good work and interactions from our corporate sponsors.
Chat
Easy communication between teacher and class via closed group chats. Safer than other messaging platforms. No private messaging.
Limitless Integration Possibilities

Already have devices or data?
Let us provide a professional evaluation of how to make the most of your existing hardware, apps and software to create a complete solution.
Click Here
No Admin
Our support team maintains your database of learners and educators, sets up the devices and manages all content and connectivity.
User-Friendly
No technological knowledge required. Navigate using our easy-to-use visual interface. On-and-play functionality.
Free User Training
During roll-out, free on-site training is provided for all users – including learners, teachers and parents or guardians.
Full Tech Support
Full on-going tech support is available for just R5 per month. Available via WhatsApp, email or phone.
Managed Connectivity
Devices are preloaded with 2GB of data per month. Support team can re-allocate data or add top-up bundles as needed. Built-in Wi-Fi.
Positive Use Control
Management software ensures that this device is used for educational purposes only. A closed system with access to whitelisted websites and approved resources only.
Security and Privacy
Hardware security locks out users from stolen or misused devices. Personal info is protected under POPIA and all collected user data is aggregated and anonymous.
Online and Offline Use
Users still have access to textbooks and bonus content such as past papers when offline. Online content is reserved for tests, surveys, group chats and visiting websites.
Content Management
The system distributes content to each user based on their profile, requirements and interests. Teachers can push assignments and notes to learners.
Communication Portal
A dedicated communication portal allows the Department of Education or school to communicate with users and share relevant news and information.
Full control for teachers and schools
Upload your own additional content or let our support team handle it
Push your own photos, videos, PDF documents, assignments etc. to learners
Set multiple-choice tests, let the system mark it and deliver results
Set up and lead safe group chats per class
Assign content to a specific class or whole grade
Integrate existing learning platforms such as Moodle and Siyavula
Get involved as a sponsor
Make a real, measurable difference by sponsoring OMANG devices
Introduce learners to your brand via reward e-vouchers and discounts
Hear from this target market through safely controlled surveys
Share positive social messaging
Sponsor the welcome poster on the lock and unlock home screen
Find the right candidates for your bursary or scholarship programme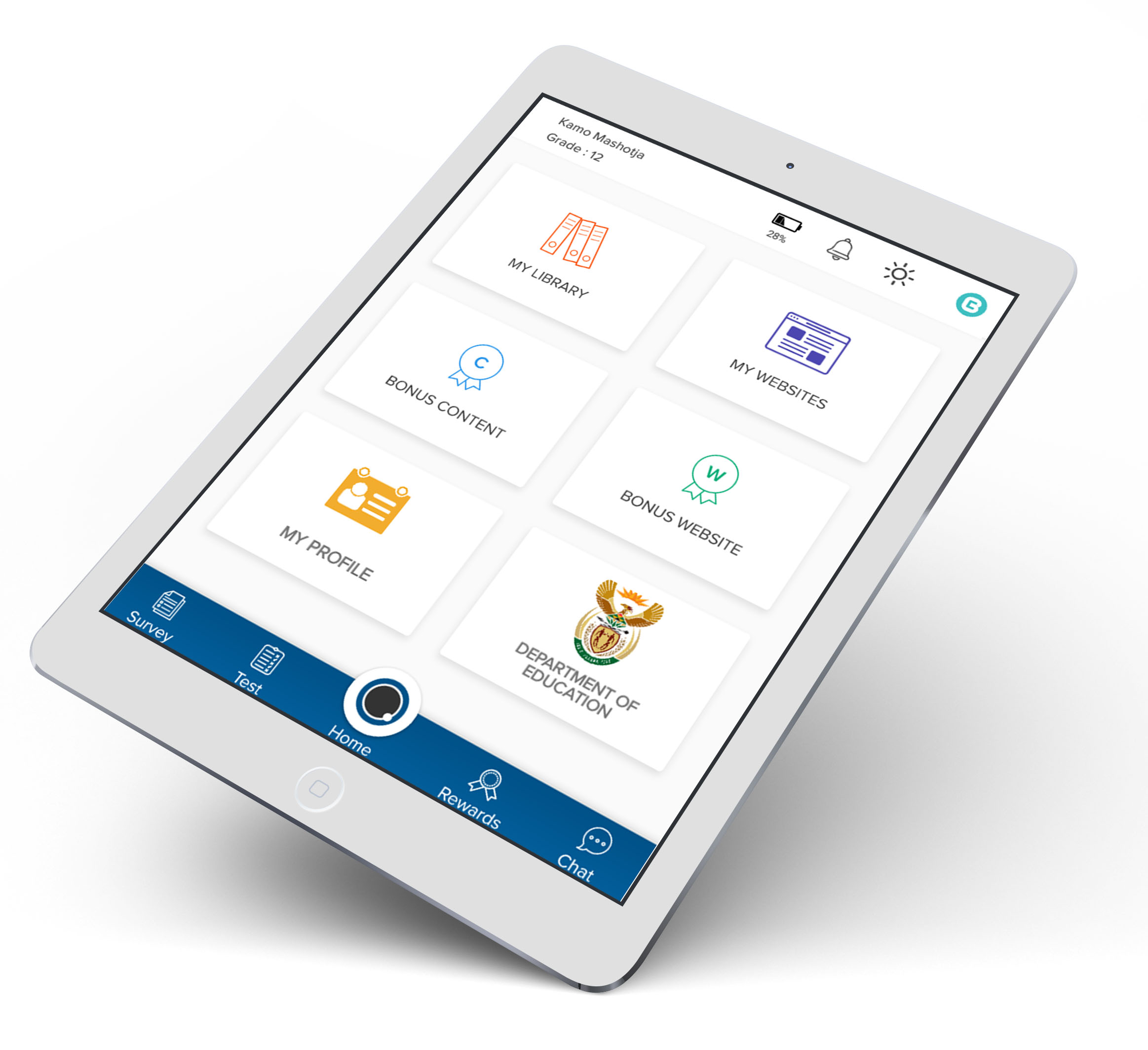 How to Buy
Complete classroom • Seamless scalability • On-going tech support
New pre-loaded devices
Learners get a brand-new Android tablet fully personalised with the approved textbooks, educational resources, apps and bonus content tailored to their school, grade and subject choices.
Your existing devices
Turn every tablet into an OMANG educational device. Seamless integration with existing hardware. System requirements: 7-inch tablet • 16GB • WiFi or 3G • Android 6 or later • 2GB RAM
Subject to a minimum order of one class or grade.
Not for individual purchase.

Ready to change a child's life? Leave your email address and/or contact number and one of the Odin Education team will be in touch.